Premium Name Tags & Badges for Businesses in Canada
Coronation Recognition customized name tags and badges for professionals. Explore Canada's premier selection. We offer engraved and magnetic tags, badge accessories, and a diverse product range. Prioritizing our customers, we ensure quality and prompt shipping, establishing us as Canada's top choice for name badges and tags.
FREE SHIPPING FOR Orders Over $300!
Explore Our Name Tags Collection: Unique Designs for Every Need.
Laser Engraved Plastic Tags
Our Engraved Plastic Name Tags, a favorite among businesses in Canada, are meticulously crafted from a resilient 1/16" laminated 2-ply plastic. These name tags are designed to ensure both aesthetics and durability. They come in a wide variety of color combinations and are laser cut, making custom shapes and sizes feasible. With names and logos engraved directly onto the material, these tags labels promise longevity without concerns of fading or deterioration. This method offers a distinct two-tone look, though it doesn't support full color.
Initial Name Tag Template Setup Charge of $15 applies on initial orders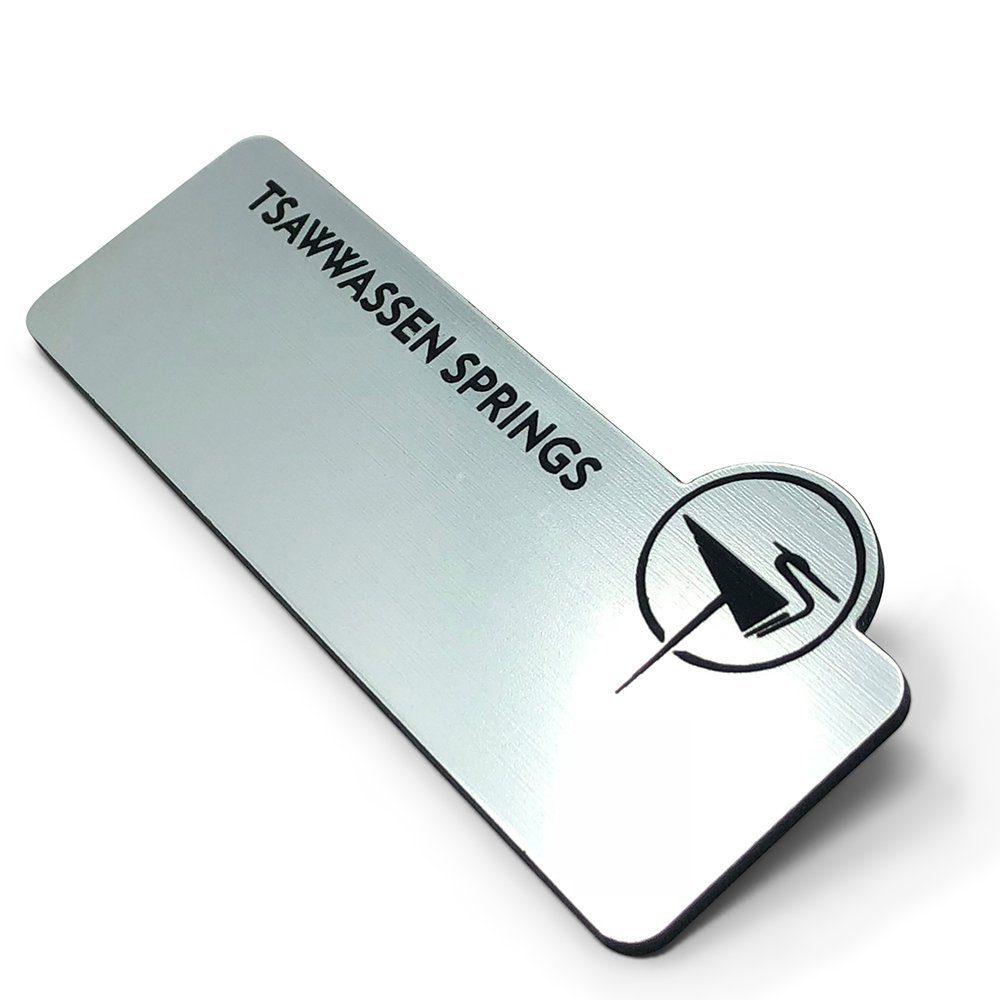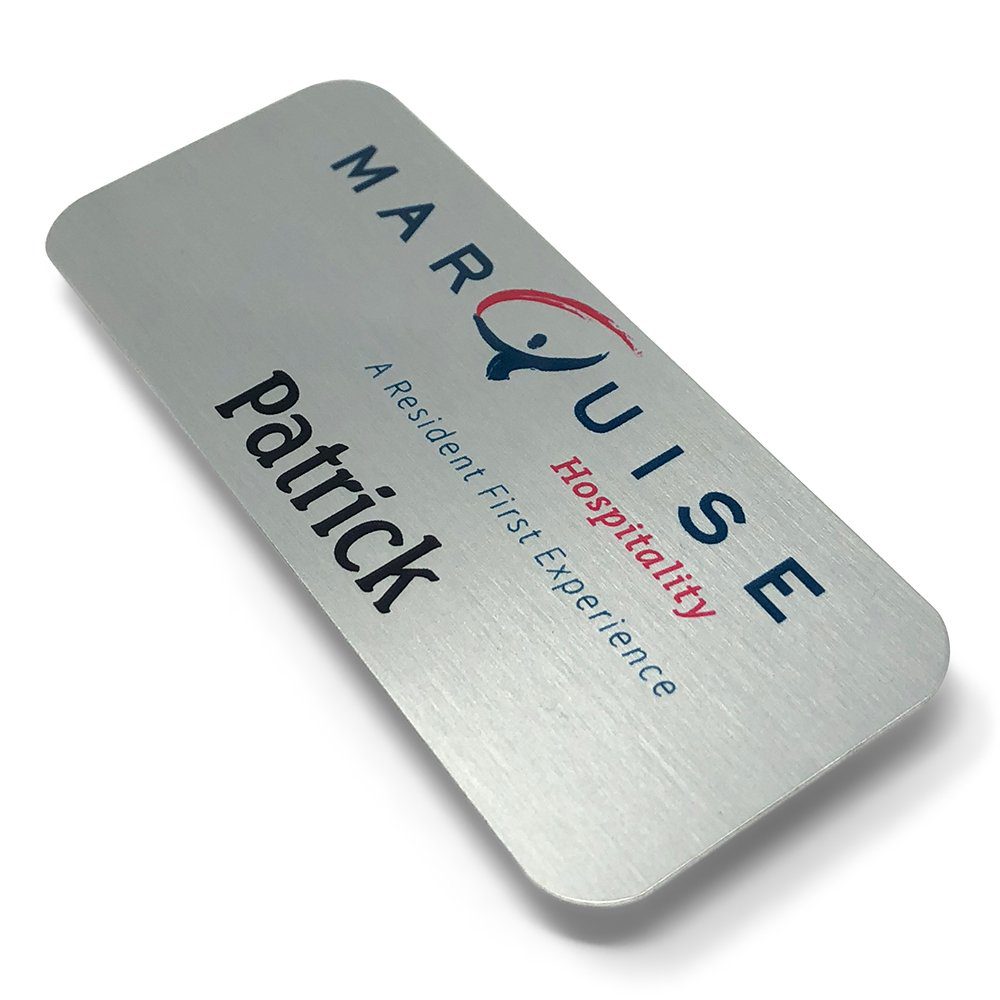 Thinner than our usual plastic badges, these 0.020" aluminum name tags bring the versatility of full-colour printing to the forefront. Whether you opt for White, Gold, or Silver, these tags are more than just identification tools—they're brand enhancers. Their popularity isn't just by chance; they've become a staple in businesses looking for an efficient yet stylish name tag solution.
Initial Name Tag Template Setup Charge of $15 applies on initial orders
Embrace the future with our UV Printed Plastic Name Tags. The use of UV ink provides a notable 3-dimensional texture with elevated printing in striking full color. Unlike other more conventional methods, these name tags offer limitless color options. Even more impressively, they allow for precise prints aligned with exact branding and Pantone specifications—ensuring your brand's visual identity remains consistent and prominent.
Initial Name Tag Template Setup Charge of $15 applies on initial orders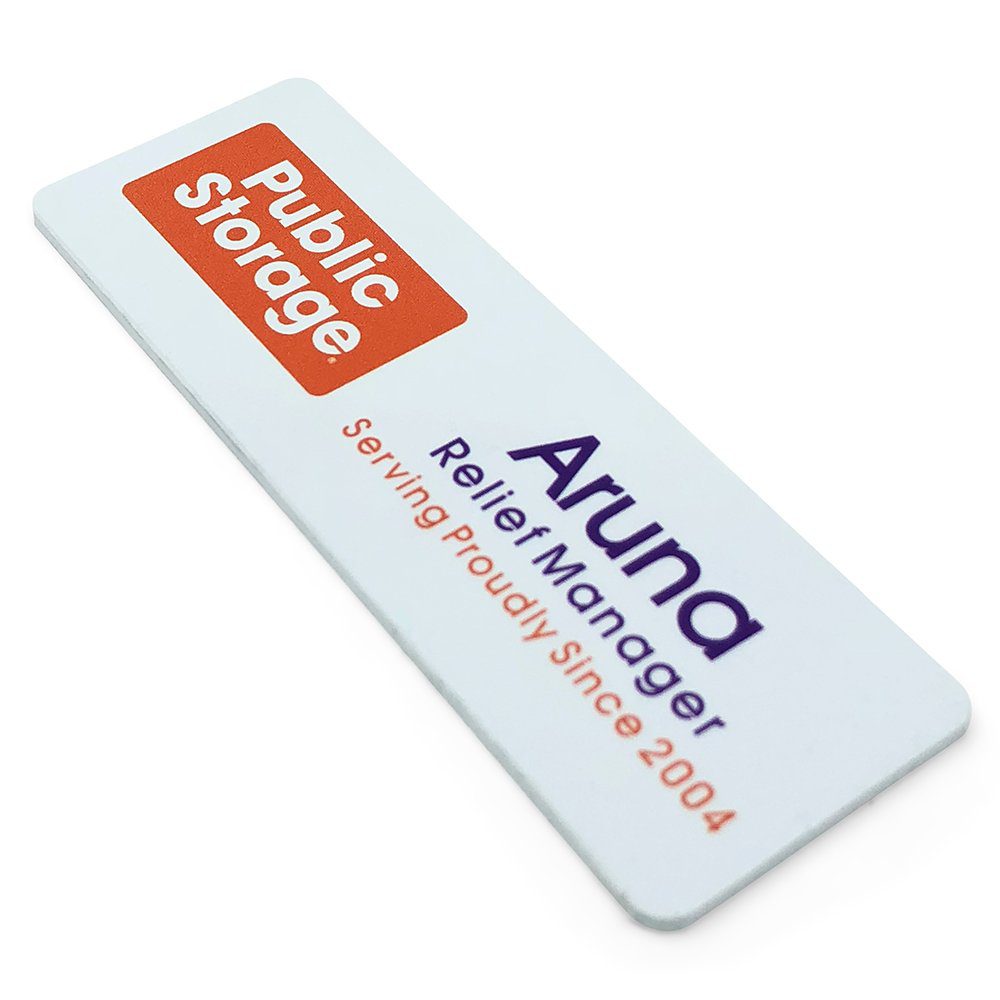 Diverse Options in Name Labels & Sizes: Customers Trust Our Competitive Pricing
Understanding the value of a personal touch, our name badges and tags are designed to foster genuine connections. Whether you're searching for engraved name plates, magnetic name badges, printed tags, or essential tag accessories, we've got you covered. Our range of products is vast and tailored to fit the unique needs of professionals in Canada. From retail to corporate settings, equip your team with products that make every interaction count.
If your order totals over $300, shipping's on us. We're here to keep things easy and convenient for you.
Your ideas + our expertise =
an incredible combination
!
YOUR DISTINCTIVE MARK ON NAME TAGS
Haven't located the perfect name tag yet?
We've got you covered. We believe in crafting something that truly resonates with your brand. Need guidance or a unique concept? We're here to help!
Reach out via email at sales@coronationrec.com or call us at 604-359-2996.
Our dedicated team is at the ready to help you design name badges, metal tags, engraved plates, custom tags, and even magnetic options, ensuring every detail is tailored for your professional setting.
Canada's Trusted Choice for Top-Quality Name Tags & Customer Service.
COMMITED TO EXCELLENCE: CUSTOMERS' #1 SOURCE FOR PREMIUM NAME TAGS
To get started, send along your vector logo files (.AI, .EPS, .PDF are preferred) and our graphics department will send you an initial layout that will serve as your template moving forward! A graphic proof typically follows in 48 hours, and standard name tag production time is 5 business days.
How to order with coronation rec?
STEP 1:
CONTACT US FOR CUSTOM NAME TAGS
Reach out to us at 604-359-2996 or fill out the form with your name tag requirements. We're here to assist, ensuring every identification detail is right for you.
STEP 2:
REVIEW YOUR PERSONALIZED NAME TAG DESIGN
Obtain a preview of your name tag from our dedicated design team. Feel free to make any necessary changes, ensuring your identification sign is exactly how you envisioned.
STEP 3:
RECEIVE YOUR CUSTOM NAME TAGS
Once your tailored name tags are prepared, we're ready to dispatch them directly to your location, ensuring timely arrival for your event or professional use.
Frequently asked questions